Listen to the Podcast
3:19 – What does Aging in Place mean
5:47 – Where is home
6:49 – Late stages of life
8:30 – What is a mobile physician
9:42 – Other professionals involved in care
12:44 – Continuity of care
16:02 – Time (how comprehensive can 10-15 minutes be)
19:25 – Questions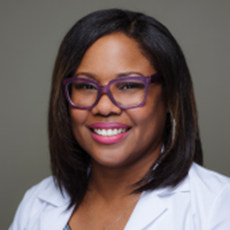 Dr. Kaishauna Guidry, MD, HMDC is a mobile physician based in Southern California. She was born and raised in South Central Los Angeles, attended Susan Miller Dorsey High School, then stayed local to attend UCLA. Go Bruins! She has been married to her husband, Javelin Guidry, for 25 years. They reside in Murrieta, California, have three young adult children, & one granddaughter.
Dr. Guidry received her Bachelor of Arts degree in Sociology, with a minor in Education Studies in 1997. She then taught elementary school in the Los Angeles Unified School District for a brief time until starting a family with her college sweetheart. They settled in Long Beach, California with pre-Dr. Guidry caring for her family as a stay-at-home mom. After spending 14 years taking care of her children and community through church, youth sports organizations, PTA, etc., she decided to pursue a career in Medicine.
As an aptly termed "Non-traditional PreMed student" she attended Long Beach City College, where she worked as a Master Tutor of science courses, and student representative for the science professor hiring committee. She also took post-baccalaureate coursework at Cerritos College, where she served on the Dean's Advisory Board and as President of the PreMed Club. Once accepted into medical school, she and her family moved to Texas for her matriculation to Texas A&M College of Medicine. There she served the underserved in the student run clinic 'Health for All.' Dr. Guidry subsequently matched into the Loma Linda University Medical Center Categorical Internal Medicine Program, her family happily returned Back to Cali for her training. In residency she was selected by her peers to advocate on the Program Improvement Committee. Today she serves patients & families in their homes as a Hospice & Palliative Care Medical Director, and her private mobile physician practice Mourning Dove Medical. She is most proud of her new podcast on Apple Podcasts, Anchor & YouTube: "At The Heart of Healthcare with Dr. G" Episode 1 "What is Hospice?"
Dr. Guidry is a strong Healthcare Advocate & Mentor who is passionate about combating healthcare disparities across medical specialties and providing strategies of success for aspiring physicians. She endlessly empowers people to navigate the broken US Healthcare system. Her goal is to normalize diversity in the pipeline of medicine. Her hobbies include enjoying the beach, fine dining, watching the News, Forensic Files reruns, and football—Go LA Rams!