Listen to the Podcast
1:45 – What is dysphagia
3:17 – Dysphagia is associated with
6:05 – The swallow
7:16 – Signs/symptoms of dysphagia
11:21 – What does aspiration look like
13:57 – Oral care and dentures
15:38 – Pill dysphagia
17:44 – SLP assessment
21:58 – Dysphagia can improve with intervention
22:45 – Where to find a SLP
24:30 – Diet modifications
26:14 – Solids and thickened liquids
32:55 – Food for thought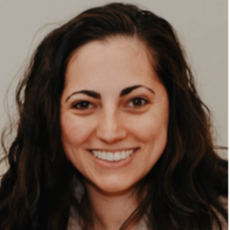 Olga is a Speech and Language Pathologist specializing in swallow disorders, accent modification, and speech therapy services for adults working to improve overall personal and professional communication skills.
Olga received her Bachelor degrees in Psychology and Linguistics from the University of Michigan in 2007 and her Masters in Communication Science and Disorders from Wayne State University in 2010.
She has since worked in several states and healthcare settings, currently residing in Northern VA and providing speech therapy services to clients via teletherapy and in acute care at three local hospitals. Olga also has experience teaching ESL and she is fluent in Russian.