Listen to the Podcast
1:50 – Hearing loss in America/Global
3:32 – Symptoms of hearing loss
4:52 – Untreated hearing loss can lead to
7:49 – Typical hearing loss treatments
11:15 – Auditory pathway
13:09 – How Covid may be influencing hearing
14:24 – Masks' effect on hearing and communication
19:27 – How IPCTS came to be
22:00 – History of closed captioning
23:08 – Phone captioning process
25:57 – Why people use captioned phone service
30:09 – Questions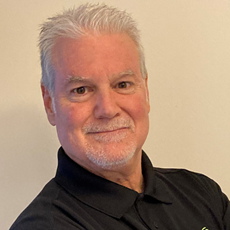 With more than 30 years in the audiology and hearing aid industry, Steve DeMari brings a wealth of knowledge and leadership to his position as Director of Business Development and Education. He is responsible for maintaining and growing the customer base and cultivating new relationships as well as mentoring outreach peers and account managers.
Steve's passion for the industry began during his early years in Syracuse, New York, with his hard-of-hearing sister. He helped trouble shoot her hearing aids and teletypewriter, became involved with the Deaf and hard-of-hearing communities in Central New York, and volunteered with the audiology mobile unit at Rochester Hearing and Speech Center. Steve earned a master's degree in audiology from Syracuse University, then completed a clinical and research audiologist fellowship at the Department of Veterans Affairs Medical Center in Long Beach, California.
Steve has served in a variety of leadership roles. Most recently, he was Vice President of Sales and Account Management and Director of Audiology for United Healthcare Hearing. Previously, he was Director of Government Services and Business Development for Phonak, Starkey, and Sivantos as well as audiologist and manager for a wide demographic of medical and private practice clinics in Los Angeles and Chicago. Under his leadership, these companies and channels enjoyed market-share rise and team growth. Steve was instrumental in launching the Universal Newborn Hearing Screening Program in Illinois.
Steve is a member of the American Academy of Audiology, American Speech-Language-Hearing Association and Illinois AA. He stays highly involved in the industry through several social networks and professional blogs and continuing education within the field of Audiology.