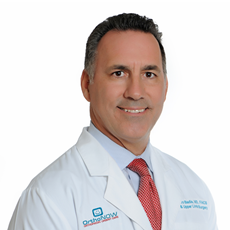 Alejandro Badia, MD, FACS, FRCSI is a hand and upper extremity surgeon, author and healthcare entrepreneur in Doral (Miami), Florida.
In 2008 he created the Badia Hand to Shoulder Center, having previously co-founded the Miami Hand Center, and Surgery Center at Doral.
In 2010 he launched OrthoNOW®, the first immediate orthopedic care center in south Florida, later franchising the concept which can now be licensed to orthopedic colleagues and healthcare systems and currently seeking the optimal strategic healthcare partner.
He is past president of the International Society for Sport Traumatology of the Hand (ISSPORTH) is a member of several orthopedic societies (AAOS, ASSH, AAHS, EWAS), honorary member of more than 10 international hand surgery and arthroscopy associations, and served as honored professor at the prestigious Philadelphia Hand Course in 2012. Having lectured in all seven continents he is currently focused on improving healthcare delivery in the orthopedics and sports medicine realm.
Dr Badia has outlined his journey and delved into the major challenges and hurdles of delivering healthcare in the U.S. through his Amazon best-selling book, "Healthcare from the Trenches" published during the Covid19 pandemic.