Listen to the Podcast
1:43 – Who is Kunle Adewale
3:04 – How he got into using art for therapeutic purposes
4:28 – How is art helpful for our aging population
6:49 – How to use arts as a coping mechanism during Covid-19
11:55 – Which is more important – the process of art making or the end product
13:49 – How organizations that work with older adults are leveraging technology and arts
16:47 – Questions and more thoughts on his journey in creative arts in Nigeria and across the globe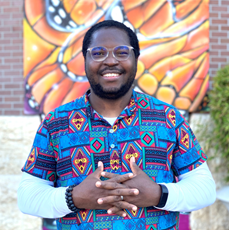 With over a decade of experience as an artist and educationist, Kunle founded 'Tender Arts Nigeria' in 2013, a social enterprise and non-profit organization which aims to positively impact children, youth and adults, with a focus on therapeutic arts, art education, talent development, community development and civic engagement. Projects that Kunle facilitated in the past and present range from therapeutic art projects for displaced families suffering from post-traumatic stress disorders, to children and adults living with cancer, sickle cell anemia, dementia, mental illnesses, HIV and aids, Down syndrome, cerebral palsy, autism or other neurological disorders.
He has impacted over 15,000 beneficiaries through his art programs in Nigeria, Ghana, Kenya, South Africa and USA. He currently leads the largest Arts in Health Network on the continent of Africa through the 'Arts in Medicine Fellowship for Students and Professionals in Arts and Health', located in Nigeria. He has featured as a panelist and keynote speaker at Arts in Health-related conferences in Nigeria and abroad. His development works has featured on Aljazeera, Reuters, BBC Africa, TRT World and Africa 54 Voice of America Washington DC among many others.
His community-based projects have been supported by U.S Department of State, Center for Arts in Medicine, University of Florida, U.S Consulate Lagos, and endorsed by International Child Arts Foundation, Washington D.C, United Nation Information Center, Society of Nigerian Artists, Nigerian Medical Association, Lagos State Council for Arts and Culture, Lagos State Ministry of Sports Youth and Social Development.