Listen to the Podcast
1:25 – What is creative engagement and why did you get involved in this industry
4:30 – 5 ways to use creative engagement
7:17 – How does creative engagement work with clients and caregivers
8:50 – Groups vs individuals and creative engagement
11:07 – Activity vs Engagement
19:49 – Assessments and measuring effectiveness
22:56 – What does creative engagement look like
24:19 – Getting started with creative engagement
27:30 – Creative engagement and Covid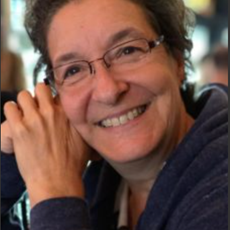 Patricia Dubroof is the Director of Community Relations for Assisting Hands Home Care. She creates partnerships with our senior communities to share educational and creative tools about the important role caregivers have in our family's lives. She connects with our families as they enter the caregiver world, listening carefully to their stories and finding solutions to their caregiving needs.  Patricia facilitates several programs: Death Cafe, Book Events, What's Your Plan, and others. Patricia represents Assisting Hands as an active member of the Rockville Chamber of Commerce, Greater Bethesda Chamber of Commerce, GROWS, and the Senior Services Alliance.
Patricia Dubroof joined Assisting Hands in March of 2019. She has over 35 years of experience in caring for seniors through creativity and coaching.  She developed arts and healing programs at the Hebrew Home of Greater Washington, Iona Senior Service, Washington DC Veterans Medical Center, and many other local and national organizations.
Patricia is the founder of Women Leaders in Elder World. We are a group of caring and experienced professionals from a wide variety of disciplines eager to help you and your loved ones find the best solutions and resources.