Listen to the Podcast
1:02 – Defining life's purpose
2:14 – How does your purpose in life change as you age
4:32 – Is your purpose in life static or dynamic
5:52 – Sharing your purpose with those around you
6:55 – Bhavana shares a wonderful story
14:15 – Defining creative expression
17:34 – Bhavana shares her evolving life's purpose
21:25 – Advice for personal caregivers
23:52 – 7 elements of caregiving
27:21 – Takes a village to look after an aging/wise/contributing citizen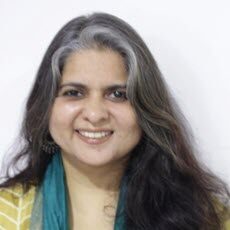 Founder & CEO, Sambhaavna Partners & Caregiver Saathi
Bhavana comes with nearly 24+ years of experience in diverse global companies as a consultant, an HR leader and a passionate person with diverse interests.
She brings practical experience of accomplishments inside organisations along with a depth of professional knowledge, which she continues to challenge and build.
She is the Founder & CEO Sambhaavna (www.sambhaavna.com), a business consulting firm that specializes in Organization Development & HR, and Caregiver Saathi (www.caregiversaathi.co.in), a social enterprise that aims to create an ecosystem of well-being for the informal caregivers who are the primary caregivers to a family member with terminally illness or with chronic medical conditions. She believes that the healthcare system needs to be reimagined with the perspective of the caregiver, in a way that there is systemic social change such that technology can enable humanity.