Listen to the Podcast
1:20 – Why do couples stop communicating after living together for decades?
2:40 – What is meant by "cueing?"
4:16 – What is our center of gravity? How does it change as we age?
8:55 – Your motto is "giving partners support." If one person has a chronic medical condition, doesn't it fall on the other person to support them?
18:26 – What are the 5 levels of touch? How can we use them with ourselves and with a partner?
25:40 – Why do partners resist being playful with one another? How important is laughter in a relationship?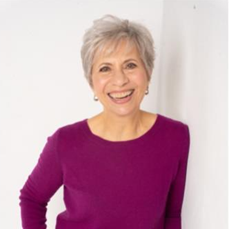 Judith Sachs is Founder and Director of ANYONE CAN MOVE, an adaptive movement program in Philadelphia, PA. Although she started her professional life on the stage, and then moved to the healthcare arena, she now combines these two passions. Her goal is to get everyone moving, whether in a chair or across the floor.
Judith's programs inspire movement beyond what participants thought was possible. She posits that physical experimentation in a chair, wheelchair or walker can free a body from many restrictions and galvanize a group to work together on rhythm, grace and confidence. She is a certified Dance for PD® teacher in Philadelphia, currently teaching online.
In 2019, she piloted an innovative therapy program, CLOSE CONTACT for COUPLES® with PD in Portland OR, Cherry Hill, NJ and Philadelphia PA under a grant from Penn Medicine. In 2020, she was awarded a Parkinsons Foundation COE grant to improve partner communication with couples online, and in 2021, was awarded a second year in cooperation with both the Parkinsons Disease and Movement Disorder Center, Penn Medicine and the Lou Ruvo Center for Brain Health, Cleveland Clinic, Las Vegas, NV. In 2022, she was invited to join the new Prime PD Parkinsons Fitness platform online as a teacher of qigong, balance and gait. In addition, she is part of the CenterStage Arts in Medicine program at Penn State Hershey Cancer Institute, dancing with patients and caregivers in the infusion suites.