Listen to the Podcast
1:46 – What is assisted living, and what types of services do assisted living communities offer?
2:53 – What are the differences in the types of care and services available in each of your communities?
4:48 – Are memory support programs in place within all assisted living communities?
5:50 – Are there secured areas specifically for residents requiring memory support, what security protocols are in place to maintain their safety?
7:30 – What happens when a resident's needs change, requiring additional support due to a health decline?
10:00 – Is there a process in place to communicate with family members?
12:26 – Benefits of a move to an assisted living community versus staying at home with supportive services in place such as a personal caregiver?
15:00 – What kind of training do staff members receive, and is there specialized training for staff when caring for people with memory impairment?
18:20 – Changes in assisted living due to Covid?
21:42 – Can you tell us about the lifestyle and leisure programs in place to engage residents in assisted living communities?
25:23 – When should one explore the option of moving into an assisted living community, and how would you guide them through this process?
29:28 – Is there an assessment required before a person can move into an assisted living community?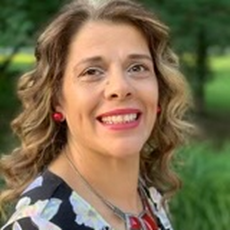 Maria Khader has worked in the healthcare field since 1995 specializing in the care of and advocating for the elderly. She established JK House of Grace Assisted Living Facilities in 1995.  With Maria as the Director, these homes are recognized by colleagues and medical professionals for providing high quality nursing care, and specializing in the most difficult and complex cases of advanced dementia/behavioral problems.  She has fulfilled her lifelong dream, where every aspect of the residents' lives – body, mind, and spirit – are cared for and vital to their treatment. She is known as "The Dementia Whisperer" because of the gifts she uses to enhance the lives of her residents.
Maria is currently certified as a Case Manager/Delegating Nurse, a Certified Dementia Practitioner and a Certified Alzheimer's disease Dementia Care Trainer and Speaker.  In her many years in the health care field she has received honors from King Hussein and Queen Noor al Hussein in Jordan as an outstanding graduate in Nursing.  She has also received certificates in public health and education from Johns Hopkins University in Baltimore, MD and certificates in curriculum development, education and development of education materials from Nottingham University in the UK.
Maria's ongoing passion is to see her patients receive the best love and care possible. Her husband and 4 children are deeply involved in the day to day operations of the facilities and committed to supporting her passion.